77th Annual Morton Logger's Jubilee Aug 8th-11th
Multiple dates from Thursday, August 8th to Sunday, August 11th
Event Summary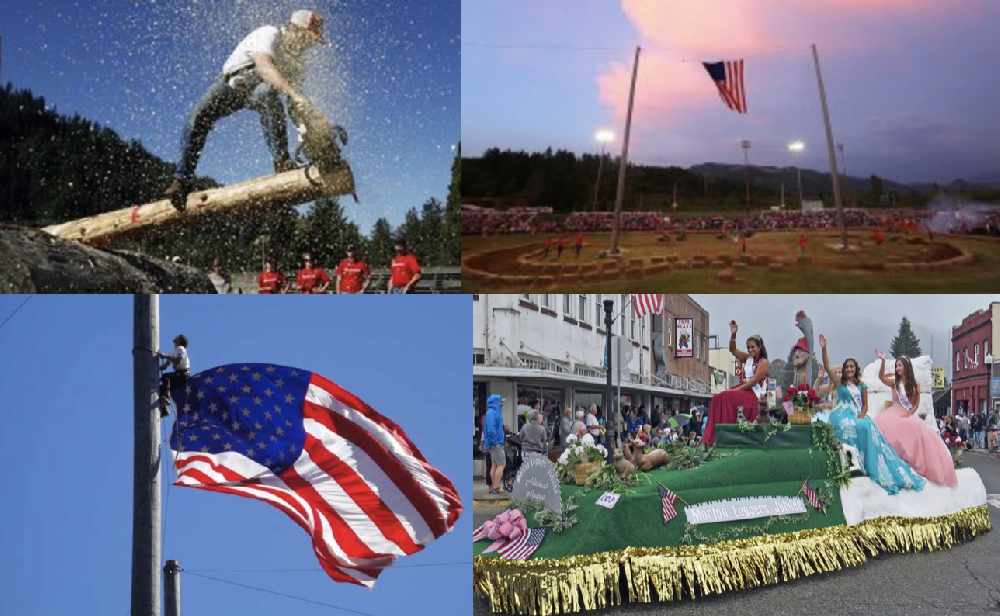 The Granddaddy of ALL logging shows! QUEEN CORONATION, LAWNMOWER RACES, PARADE, LOGGING SHOW, STREET DANCE, FLEA MARKET, FOOD and GREAT PEOPLE!
More Information (96.9 KAYO is not responsible for external websites)
Morton Logger's Jubilee is the Granddaddy of ALL logging shows! This is Morton's 77th Annual Jubilee and it includes a Flea Market, Grand Parade, Lawn Mower Races and Main Events for the Logging Show, Street Dance, Queen Coronation... Plus LOTS more! The full schedule of events and details HERE!
Who will be named the Bull Of The Woods?!?!
Thank you to BUCKS LOGGING for sponsoring the Jubilee and bringing the KAYO Girls and Nat out for a live remote on Saturday 11a-1p! KAYO will be outside the main festivities, just look for our red KAYO tent as you pull into Morton! We have Brad Paisley tickets for YOU to WIN!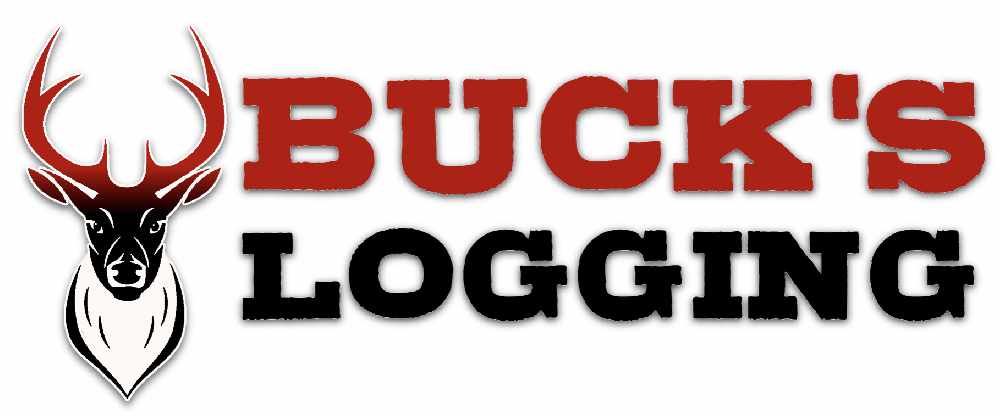 TENTATIVE SCHEDULE for 2019 77th ANNUAL MORTON LOGGERS' JUBILEE:
Thursday August 8, 2019
64th Annual Queen Coronation
Morton High School- 8:00pm
ALL WEEKEND EVENTS
28th Annual Flea Market
FOOD CONCESSIONS
Friday August 9, 2019
HAMPTON MILL TOURS - 8:00 am - NOON
Morton Senior Center: 9:00am - 4:00pm
Salad Bar, Desserts, and Bake Sale
Lawnmower Races:
Gates open at 4:30 pm
Driver's Meeting 6:30pm, Time Trials following
Racing 7:30pm
NO PETS IN ARENA
Saturday August 10, 2019
Lion's Club Loggers' Breakfast
$8 ADULTS $3 CHILDREN
Lion's Hall & Jubilee Park, 6:00am-11:00 am
++++++
10K RUN, Morton High School,
Registration 7:00am, Run 8:00am
++++++
Morton Senior Center
Salad Bar, Desserts,and Bake Sale 9:00am - 4:00pm
++++++
Jubilee Championship Bed Races,
MainStreet 11:00 am
++++++
Live 96.9 KAYO broadcast and prizes! 11am-1pm
++++++
JUBILEE GRAND PARADE
THEME:
"Our Wood Industry
enriched by Tradition, enhanced by Technology"
11:30 am, Main Street& 2nd Street

2019 JUBILEE LOGGING SHOW
Jubilee Arena, 2:00 pm
Gates open at 12:30 pm
NO PETS IN ARENA
Roxy Theater presents
"Little Shop of Horrors"

UPTOWN STREET Dance
Gas Plus Parking Lot
9:00pm - 1:00am
Music by:HARRISON STREET BEND
Sunday August 11, 2019
Lion's Club Loggers' Breakfast
Lion's Hall & Jubilee Park, 6:00am-11:00 am
$5 ADULTS $3 CHILDREN

2019 JUBILEE LOGGING
SHOW
Jubilee Arena, 12:00pm
Gates open at 11:00 am
NO PETS IN ARENA
Awards and Raffle Prizes awarded at the end of the show
The Roxy Theater presents
"Little Shop of Horrors"
ADMISSION PRICES:
Friday Lawnmower Races
Adults:$10 Seniors: $8 Children (6-12): $5
Children 5 and under FREE
NO PETS IN ARENA
Daily Logging Shows
Adults: $8 Seniors: $5Children (6-12): $5
Children 5 and under FREE
NO PETS IN ARENA
Additional Information:
The 2019 Princesses and their SPONSORS:
Rylee Rae Peters
Four U Realty - Mossyrock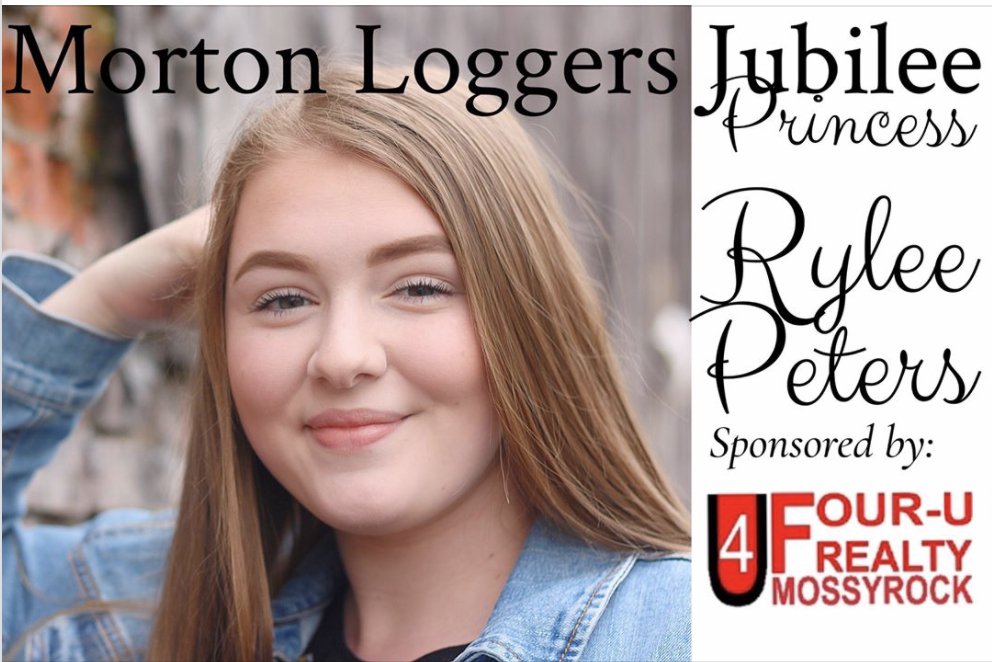 Alayna Nicole Brindle
Brintech, INC. - Mossyrock
Colton's Pharmacy - Morton
(PHOTO Coming SOON)
2018 JUBILEE QUEEN
Ana Rodriguez
The Boat Doc...Mossyrock
Pan American Berry Growers, LLC...Mossyrock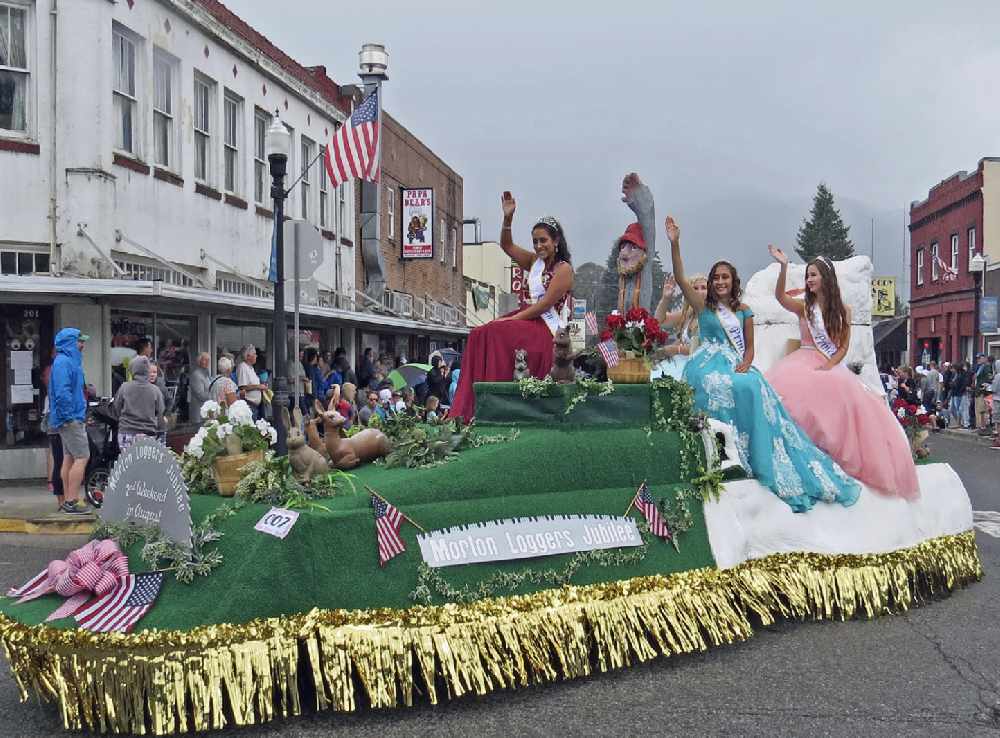 2019 JUBILEE QUEEN CORONATION
will be held on Thursday, August 8, 2019

Queen candidates annually sell RAFFLE TICKETS for the JUBILE SHOW.
RAFFLE TICKETS have been sold this 2019 season by the Princesses starting in April to current.
Prizes for raffle ticket winners are as follows:
1st Place $500
2nd Place $300
3rd Place $100
THANKS TO EVERYONE FOR THEIR SUPPORT OF THE
LOGGERS' JUBILEE QUEEN PROGRAM
Debbie Elizaga is our Royalty Chairperson.
If you have any questions about being in the
Queen Program, please call Debbie at 496-6308
or email her at ddalton@lewiscounty.com
LAWNMOWER RACES, AUGUST 9, 2019
2019 LOGGERS' JUBILEE
INVITATIONAL LAWNMOWER RACE
Special Thanks to the
LAWNMOWER RACE SPONSORS!!
VALLEY FREIGHTLINER



Start your mowers! All the action happens at the Jubilee Arena Track on August 9, 2019.
The Jubilee provides the largest, most competitive and most fair race of its kind.
Over 40 years ago the race started out as a true lawnmower race, and the Jubilee's intention is to keep it that way- Providing a fun, fair, competitive race with basic lawnmowers (anyone can build, enter, and have a chance to win first place, without spending a fortune).
A BIG Thank you to Morton Logger's Jubilee for being one of KAYO & KGY's Summer Of Fun Sponsors!
Morton Loggers' Jubilee is sponsored by:
SHOW SPONSORS
King Beverage/ Chehalis
Port Blakely
BIG Thank you to Woods Logging in Longview WA for supplying the Jubilee with all the equipment needed to run the show.
EVENT SPONSORS
Alta Forest Products
Cascade Trader
Hampton Cowlitz Stud Morton/ Randle
Harrison Christian Management, LLC
Kenworth NW - PAPE
L&E Bottling Co.
LeMay Transport
McFarland Cascade - Stella-JoneS Company
NW Hardwoods Inc.
Port Blakely
Sierra Pacific
Freightliner NW Inc.
Wood's Logging
Venue
Morton Loggers Jubilee Arena
Knittles Way
Morton
98356
Dates
The event runs from 6:00am to 11:59pm on the following dates.
Select a date to add this event to your calendar app.