SON HEROICALLY SAVES FATHER FROM BEAR ATTACK. PUNCHES BEAR IN THE FACE
Matt Case - August 22nd
LJUSDAL, Sweden — In a harrowing incident that unfolded in rural Sweden, a teenager exhibited remarkable bravery by thwarting a furious bear's attack on his father through a daring punch to the face.
The identities of the father and son, key figures in this dramatic rescue, are yet to be revealed. According to accounts from a local hunter, the duo embarked on a pursuit of a hefty 22-stone female bear near Ljusdal, situated approximately 180 miles north of Stockholm. Unexpectedly, the bear abruptly changed its course, confronting the older man and pinning him down on Monday.
Jonny Sjoblom, a seasoned hunter leading a local initiative to manage the growing population of brown bears, recounted how the son's swift response came into play. The young man courageously delivered a decisive blow to the bear's head even as it inflicted wounds on his father's face. Despite being bitten on the wrist by the bear, the son's act of bravery allowed the father sufficient time to respond, ultimately bringing down the bear with a gunshot, as detailed in Sjoblom's statement to local media outlets.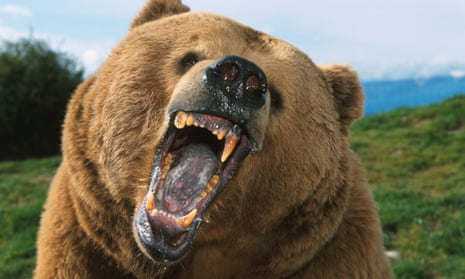 Stock Photo: Grizzly Bear
Following the intense ordeal, both the father and son were transported to a nearby hospital for medical attention. While the father sustained serious facial injuries, they are thankfully not considered life-threatening.
The rise in the brown bear population, attributed to conservation and reforestation endeavors, has become a recent trend. Nonetheless, encounters between bears and humans leading to attacks remain relatively infrequent. According to a study featured in the Scientific Reports journal, global statistics from 2000 onwards indicate an annual average of 44 bear attacks on humans, with only a minor percentage—15%—resulting in fatalities.
The incident stands as a powerful testament to the enduring bond between a father and son, as well as the astonishing bravery displayed by the younger individual in the face of imminent danger.