FAMILY CAMPING ADVENTURES NEAR MOUNT RAINIER
-Matt Case
Camping with family is a wonderful way to bond, disconnect from the digital world, and immerse yourselves in the beauty of nature. And what better place to embark on a family camping adventure than near the majestic Mount Rainier? With its towering peaks, lush forests, and stunning alpine meadows, this iconic national park offers a plethora of family-friendly camping opportunities. We'll explore some of the best camping spots near Mount Rainier that are perfect for creating lasting memories with your loved ones.
Ohanapecosh Campground: Situated within the southeastern corner of Mount Rainier National Park, the Ohanapecosh Campground is a popular choice for families. The campground offers a range of amenities including picnic tables, fire rings, and flush toilets, making it ideal for families seeking a comfortable camping experience. The nearby Ohanapecosh River and hot springs provide opportunities for family-friendly hikes and relaxing soaks. Link: Ohanapecosh Campground Information
White River Campground: Located at an elevation of 4,400 feet, the White River Campground is another excellent option for family camping near Mount Rainier. This campground boasts stunning views of the surrounding mountains and easy access to the White River, which is perfect for cooling off on warm summer days. Families can enjoy short nature walks and the exhilarating Wonderland Trail that passes through the campground. Link: White River Campground Details
Cougar Rock Campground: Positioned near the southwest entrance of the park, the Cougar Rock Campground is an ideal base for families exploring Mount Rainier. The campground offers spacious sites and modern amenities, including flush toilets and a nature center. Kids will love the Junior Ranger programs and the variety of short trails suitable for all ages. Link: Cougar Rock Campground
Mowich Lake Campground: For families seeking a more rustic experience, the Mowich Lake Campground at the northwest corner of the park is a hidden gem. The campground is accessible by a narrow road and offers limited amenities, but the breathtaking alpine scenery and the pristine Mowich Lake make it well worth the journey. Families can enjoy hiking, fishing, and stargazing in this remote and serene location. Link: Mowich Lake Campground Information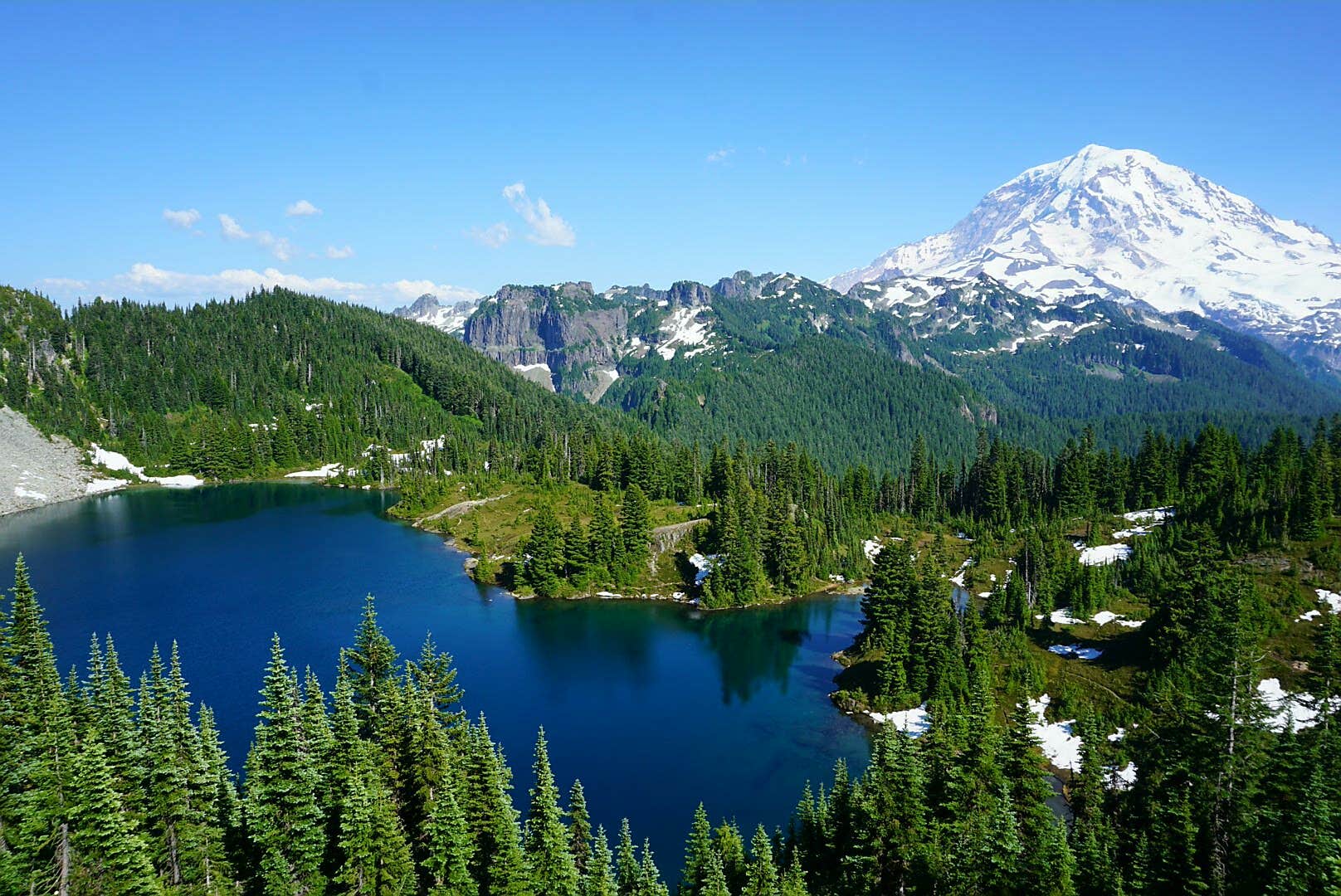 Family-Friendly Hikes: In addition to camping, Mount Rainier National Park offers an array of family-friendly hikes that showcase the park's beauty. The Nisqually Vista Trail, a short loop trail with stunning views of Mount Rainier, is perfect for young hikers. The Grove of the Patriarchs Trail is another popular choice, featuring a suspension bridge and giant old-growth trees. For more adventurous families, the Sunrise Nature Trail offers captivating scenery and opportunities for exploration. Link: Family-Friendly Hikes in Mount Rainier
Embarking on a family camping trip near Mount Rainier is a fantastic way to create lasting memories, connect with nature, and strengthen the bond between loved ones. With a range of campgrounds and family-friendly activities, Mount Rainier National Park provides an ideal setting for a memorable outdoor adventure. Whether you choose a well-equipped campground or opt for a more rustic experience, the stunning landscapes and recreational opportunities near Mount Rainier are sure to captivate both young and old alike. So gather your gear, pack your tents, and get ready to embark on an unforgettable family camping journey in the shadow of one of the Pacific Northwest's most iconic peaks.