Cody Johnson: "Leather" Tour 2024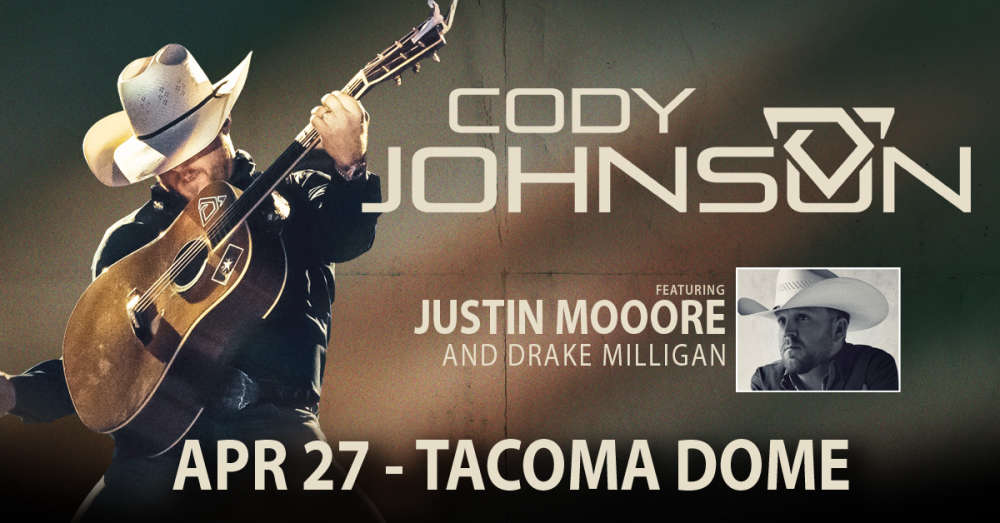 Next: Saturday, April 27, 2024
Runs until Saturday, April 27, 2024 (See all dates)
Time

6:00 PM - 11:59 PM

Venue

Tacoma Dome, Tacoma, 98421

Price

See Ticketmaster
Just Announced! Cody Johnson "Leather" Tour is coming to the Tacoma Dome on Saturday April 27th. With Special Guests Justin Moore and Drake Milligan. The tour is aptly named after his soon-to-be released Album "Leather" dropping on November 3rd, 2023. Tickets On-Sale Friday, November 3rd at 10:00 AM. Win Tickets This Week with 96.9 KAYO!
More Information (96.9 KAYO is not responsible for external websites)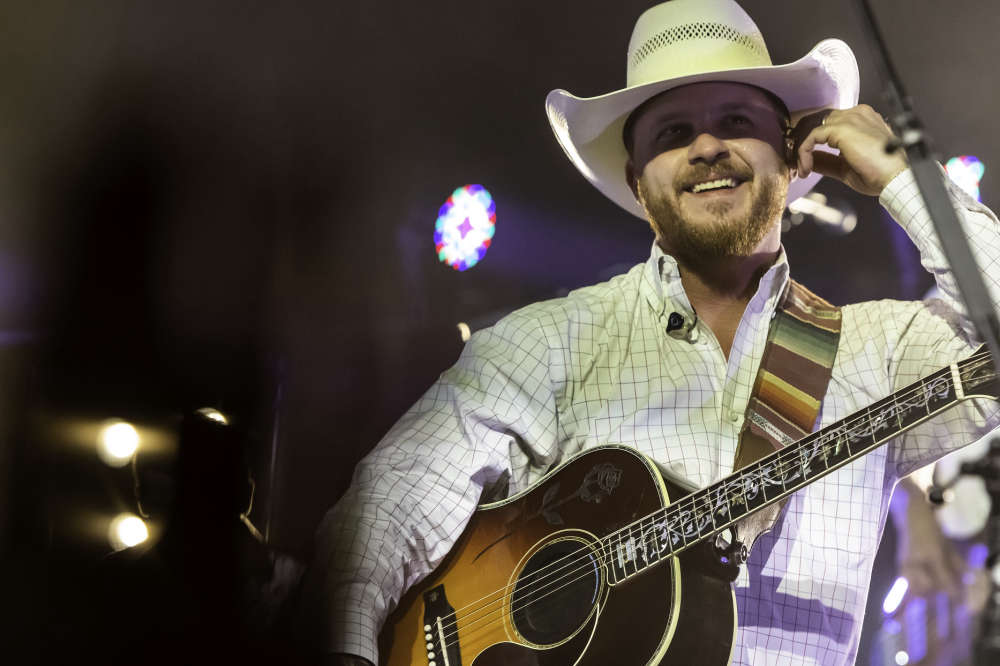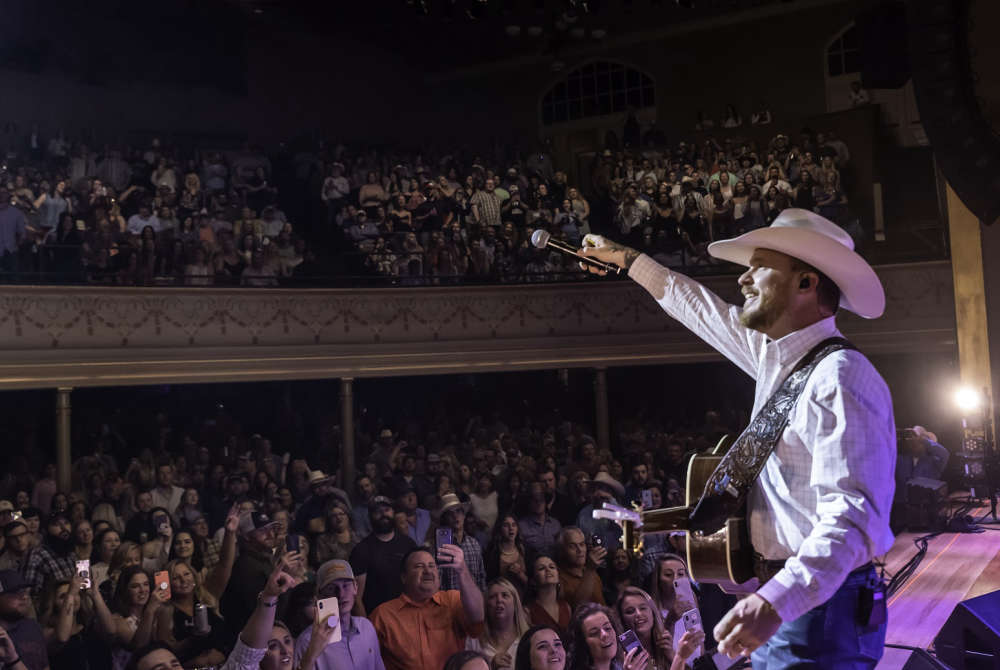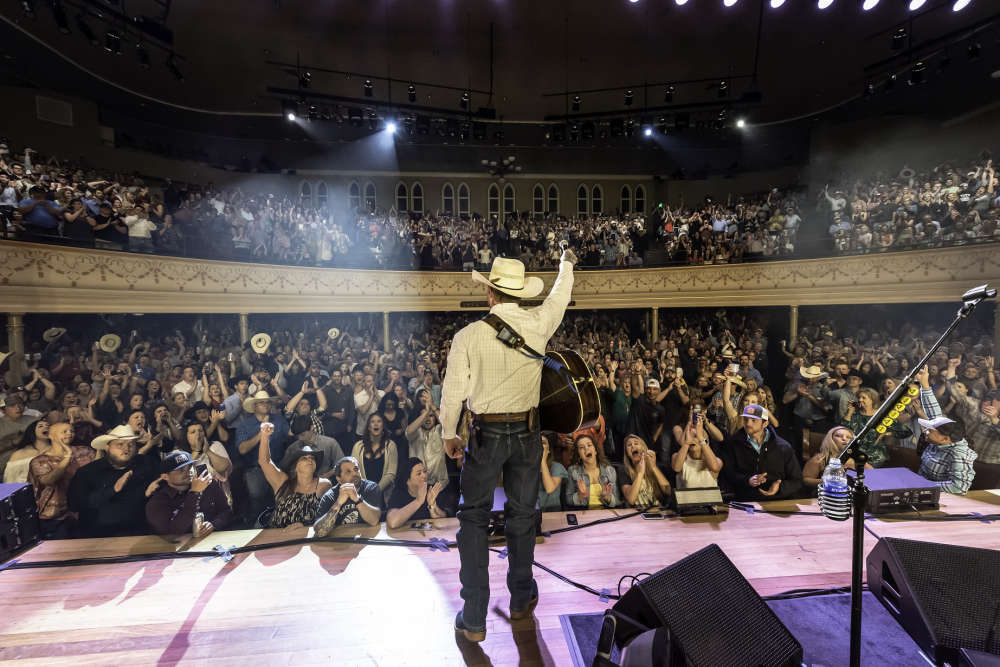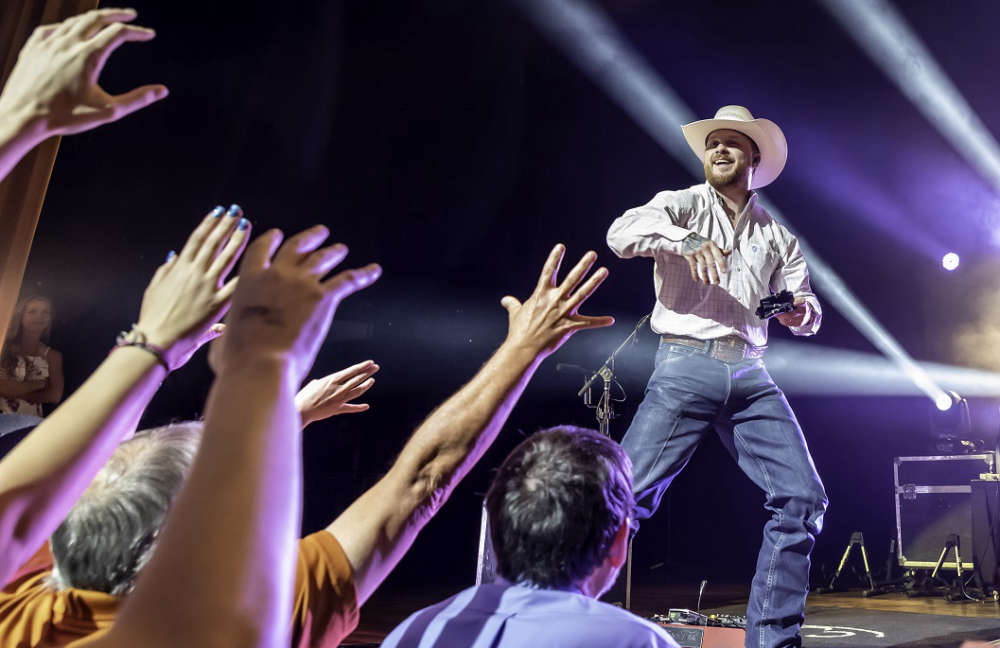 Cody Johnson
It might be daunting to launch a massive endeavor like a double album, but not for country superstar Cody Johnson, an artist MusicRow predicts "just might be the future of real country music." For him, it was quite the opposite. "I literally felt like I was just window shopping. Like I was a millionaire in a diamond shop. I was like, 'I want that one. I want that one, I want that one,'" he says. "And then when we added all those songs up, we had 18 that we knew we had to record."
The brand new 18-track double album Human is stacked top to bottom with songs that Johnson considers ones that were originally dubbed too country for country. When the songwriters told Johnson and his team that the tunes they'd penned were being rejected by other Nashville artists, he said, "Bring those to me."
"It's so hard to watch the fight to get the cowboy back on the radio. Because that's who I am and the lifestyle I live. And I can't sacrifice my integrity for who I am. I'm just kind of just being myself," Johnson says, having established a following of loyal fans by doing just that. Known as CoJo Nation, they regularly sell out shows across the country and have helped him earn multiple ACM and CMA Awards nominations, a Platinum-selling, Top 10 single ("On My Way To You"), two RIAA Gold-certified tracks ("Nothin' On You" and "With You I Am") and more than two billion streams worldwide.
Human follows his first major-label release, Ain't Nothin' to It, which skyrocketed to No. 1 on both the Billboard Top Country Albums and All-Genre Digital Sales charts, also reaching Top 10 on the all-genre Billboard 200 chart. It also made history as the third-highest pre-added album of all time in the country music genre on Apple Music at the time of release. Johnson re-recorded one of the project's standout tracks, "Dear Rodeo," as a powerful and emotional duet alongside country music icon, Reba McEntire. Described as "a beautiful piece of work" by MusicRow, the song inspired his autobiographical documentary Dear Rodeo: The Cody Johnson Story, which was recently shared in select theaters nationwide. With guest appearances by McEntire, Navy Seal Chris Kyle's widow Taya (Kyle) and more, the film showcases Johnson's real-life journey from the dusty rodeo arenas of rural Texas to some of the biggest musical stages in America, explaining how his years on the rodeo circuit fortuitously prepared him for his life as a country star.
When he began working on his second CoJo Music/Warner Music Nashville project, Johnson had enough undeniably country songs in his arsenal to make not one but two albums. Instead of trying to pare down the selection, he decided to record all of them and go old-school with a double album. The concept of two albums -- each with a side A and a side B – added up to Human. And what that meant for Johnson is a listening experience that should feel like you're at one of his unprecedented live shows. "What I did was put the songs together in sequential order as if it was a set list, and I was going to play you this album live. If there's a theme to this project, it's that the album is a set list."
Johnson adds that he created this constellation of songs by choosing each one for its own reasons. "There are ones I wrote on, there are ones I didn't write on, and there are ones that I wish I'd written. There was too much good out there to let go of, so I just said, 'We're going to cut all of them.'"
Then when it came time to choose a name for the double album, produced with longtime collaborator Trent Willmon, Johnson landed on the title track "Human." He did so, he says, because he spent more time at home in 2020 than he has since he started riding bulls as a teenager.
"I addressed things personally with this music. I addressed things in my marriage, and I said a lot of things that I had never said to my wife, we started over, and I made a vow to be a better husband, a better father, and a better leader. There were a lot of things that I was going through when I heard 'Human.' I was just like, 'Man, that's exactly what I'm doing. We ride into town, strike a match, and ride out. I show up for a show and act like I've got all this stuff figured out for 90 minutes," he explains, "and then I get back to myself and I have just as many things to worry about as everybody else. So, we're all human. We're all going to be learning to be human until the day that we're not human. I don't think anybody figures it out, and when we do figure it out, maybe that's when we go."
The title also reflects how Johnson feels about releasing an album that he calls the most vulnerable one he's ever recorded. One of the songs he wrote on his own – "By Your Grace" – is the best example of just how vulnerable he was feeling throughout the pandemic. "I was having a really rough time with a lot of things I was dealing with. And my bus was parked at my house, so I went out there, got my guitar out, and I started playing. What came to me was, 'I'm aware of everything that's wrong with me but still you accept me either way. And I'll live with the past I can't get past and it still haunts me, so I'm asking for the courage to make a change.' Now, I could have written that down in my journal or said that to a therapist. But as a song, it's a reminder that God gives us grace, and how you repay the gift of grace is faith. It's reminder that by His grace, I have been set free."
Johnson hopes to see that song change people's lives, even his own. "I need to remember that God gave me this talent. This ain't Cody," he says. "And I have an opportunity with my microphone to touch people."
Another stand-out track off the ambitious album is the lead single, "'Til You Can't." As Johnson has slowly but surely been getting back out on the road, the song elicits a crowd reaction that's the boldest he's ever seen. "After the year we've all been through, there's a division in this country. But songs like this one have the ability to unite us all. We can all relate to the fact that life starts and it ends. All we're given is time. Every day, every minute and every second is valuable. I always point to my guitar when I sing the line 'cause a dream won't chase you back.' We are only here for a short time." The earnest song from Ben Stennis and Matt Rogers has an infectious tempo that starts quietly then builds along with Johnson's advice: take the chances, chase the dreams, bait those lines, put that diamond on her hand, and take those calls from your mama as long as you can. Until you can't. It's the quintessential why-not-now song that calls Johnson's loyal fans to action.
Not all of the 18 country songs on Human are brand new. Johnson has covers of classics from Vince Gill ("Son of a Ramblin' Man") and Conway Twitty ("I Don't Know a Thing About Love"). Johnson also recruited country music icon Willie Nelson to join him for a new version of Nelson's honest and witty "Sad Songs and Waltzes" from 1973.
After an hour of non-stop cowboy country music -- backed by the welcome sounds of pedal steel guitar, fiddle, piano and his distinctive vocals -- what Johnson hopes is that his fans will feel like they know him a little bit better. "I love the fact that when you listen to this album, you're gonna hear all the facets that are me, personally and musically. Whether it's something bluegrass, something a little bit rock, something gospel, or something a little bit more Texas.
"When people listen to Human, they are going to hear a lot more of me being me, because I am finally comfortable with myself and able to share that with my fans."
Justin Moore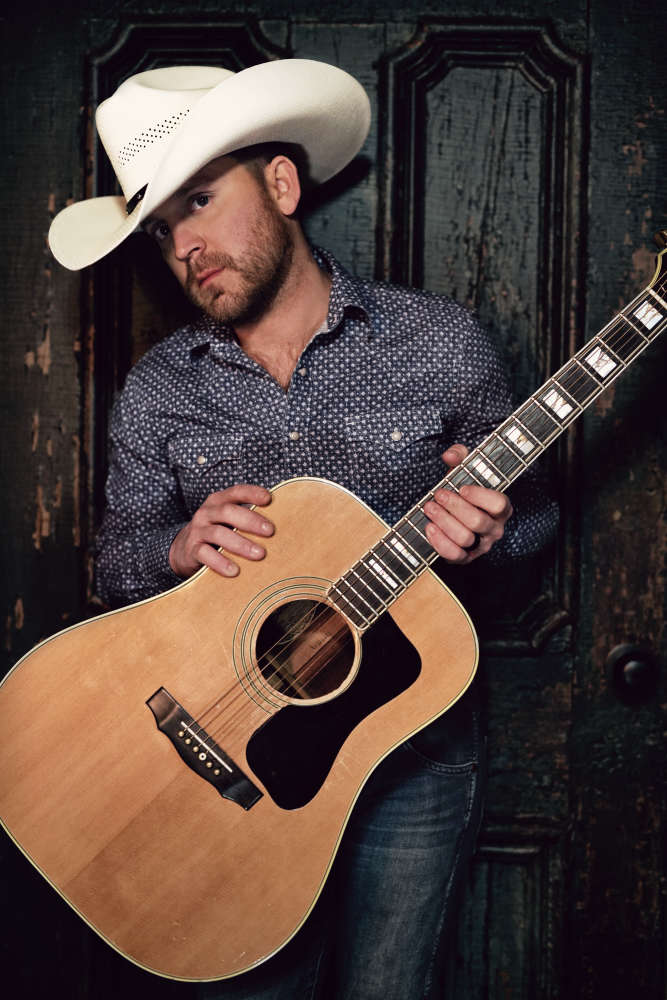 Justin Moore
Multi-PLATINUM hitmaker Justin Moore has built a loyal following over the past decade with his traditional country sound and captivating live shows. Climbing the country radio charts with his current single, "With a Woman You Love," the emotional tune follows in the footsteps of his 10th No. 1 hit, "We Didn't Have Much," which is featured on his eight-track collection of tunes, 'Straight Outta The Country.' The Arkansas native's extensive fanbase helped boost his fifth studio album, LATE NIGHTS AND LONGNECKS, to the top of the charts upon its release. Lead track "The Ones That Didn't Make It Back Home," and follow-up "Why We Drink" both peaked at No. 1 on both Mediabase and Billboard. Moore's previous project, KINDA DON'T CARE, earned the singer his third consecutive No. 1 album debut and features his chart-topping singles "You Look Like I Need A Drink" and "Somebody Else Will." It served as a follow up to his second No. 1 album release, the GOLD-certified OFF THE BEATEN PATH. Over his 10+ year career, Moore's No. 1 hits have also included "Point at You," "Lettin' The Night Roll" "If Heaven Wasn't So Far Away," "Small Town USA" and "Till My Last Day" as well as seven Top 10 hits and PLATINUM-certified albums JUSTIN MOORE and OUTLAWS LIKE ME. The Valory Music Co. recording artist has earned multiple ACM, ACA and ACC Awards nominations as well as an ACM Award win. He has shared the stage with Hank Williams Jr., Brad Paisley, Miranda Lambert, routinely traversing coast-to-coast on headline runs and hitting the road this spring to headline his 'Country On It Tour.' Adding to his already impressive career, Moore has also been busy hosting his Justin Moore Podcast sponsored by Bobcat with tour manager JR and interviewing guests such as Oscar award-winning actor Matthew McConaughey; Country stars Tracy Lawrence, Jon Pardi, Brantley Gilbert; wrestling champion Diamond Dallas Page and ESPN's Marty Smith. He also recently took on a new role as co-host on 103.7 The Buzz's morning drive-time sports talk show, "Morning Mayhem," where he spends his weekday mornings dishing out his never-ending sports knowledge on-air. For tour dates and more, visit JustinMooreMusic.com.
Drake Milligan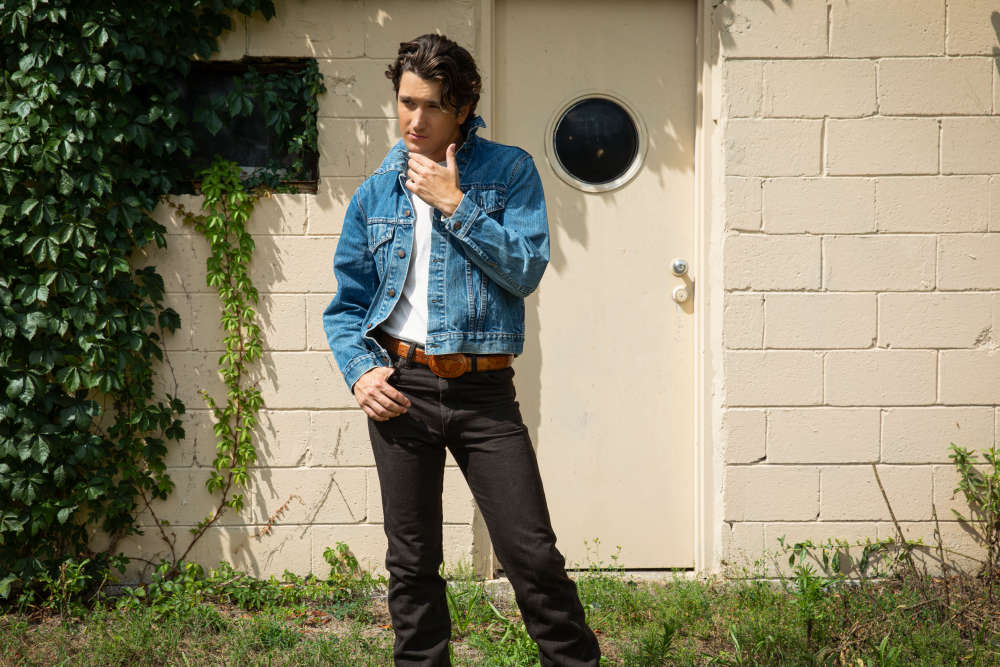 Drake Milligan
When country music newcomer Drake Milligan moved from Fort Worth to Nashville, he didn't just come here to sing. He came to listen.
At just 19 years old, armed with an appreciation for the history of country music, Milligan listened in co-writes and recording sessions, where songwriters taught him how to tell a story, legendary producers taught him how to use the mics and studio as a vehicle for his voice, seasoned musicians were willing to back the new guy, and his country music heroes shared insightful advice on how to seamlessly shift from the studio and the stage -- letting things snowball from there.
Now at 23 years old, having taken in all that wisdom, he's ready to introduce himself to the world with the release of his debut EP, Drake Milligan.
It was Milligan's intent to pen every song on his first release, but he knew that he'd be better off if he didn't go at it alone. "Word got around, and I was invited into more and more co-writes, and finding my own sound was what that was all about." "I wrote for the last three years. I write every day. You realize when you get to Nashville that you have to write thousands of songs before a really good one comes out," he says.
That's where his heroes came in. Milligan was able to book writing sessions with industry legends like Bill Anderson (Brad Paisley, Conway Twitty, George Strait), Dean Dillon (Chris Stapleton, George Strait, Kenny Chesney), Monty Criswell (Josh Turner, Trace Adkins, Tanya Tucker), Marv Green (Billy Currington, Brooks & Dunn, Lonestar), Paul Overstreet (Blake Shelton, Randy Travis, Ronnie Milsap), Terry McBride (Easton Corbin, Garth Brooks, Hank Williams Jr.) and Brice Long (Jon Pardi, Gary Allan, Randy Houser).
"The reason I came to Nashville is because all of my heroes are here. All the guys who wrote and played on my favorite songs are still so good. They wake up every day and want to write the best song they can. I wanted to learn something from every write. Writing with those songwriters was a rite of passage for me," Milligan says. "Seeing how excited Bill and Dean and the others are about writing songs was so inspiring to me."
"We all get here with a different set of influences. Mine were mainly George Strait and Elvis. Along with a lot of Alan Jackson, Randy Travis, and George Jones. That's what my mom and dad listened to, so my earliest music memories came from that," he says. "As I was writing, I learned that the best sad songs are bittersweet and even a little hopeful. I love that tradition in country music: how sad songs can help you feel understood. That's the magic, because not everything in life is sunshine and rainbows."
Once the songs were written, it was time to find a producer. Milligan enlisted the award-winning music producer and industry icon Tony Brown (Brooks & Dunn, George Strait, Vince Gill) and songwriter/producer Brandon Hood. Brown first discovered Milligan's talent as a performer when he saw him portray Elvis Presley in the 2017 CMT TV series Sun Records, an adaptation of the Tony-winning musical Million Dollar Quartet.
It was then time to record, and Milligan opted for seasoned session musicians who played on the music he was raised on. "When I hear Stuart Duncan (George Strait, Alan Jackson, George Jones, Tim McGraw, Clint Black, John Prine, Travis Tritt, Dolly Parton, Reba McEntire, Elvis Costello) playing fiddle on my record, it takes me back to all the songs I loved that he played on," he says. The EP also boasts renowned piano player Gordon Mote (Alan Jackson, Carrie Underwood, Josh Turner, Brad Paisley, Blake Shelton). "I figured a guy like that wouldn't even want to play on a new guy's record," he admits, even though he's more of an old soul at heart than a so-called new guy.
Finally, when it came time to unearth his very own sound, the Nashville newcomer turned to his roots: Texas. Growing up in Fort Worth and loving the outdoors as much as he loved music, Milligan's intent was always to sound like Milligan, as opposed to merely copying the sonic vocals and instrumentations of his heroes. While the family scrapyard business was never his plan B, he still thinks of Texas as home and Nashville as his home base. "There's no way I could've made this record in Texas. The songwriters and players here are the best in the world. I don't want to ever lose my roots," Milligan says, "but Nashville is like no other place in the world."
The result is his debut EP, stacked with five songs all co-written by Milligan, packed with everything country music fans want. Milligan layers the fiddle and steel in the trouble-drowning, alcohol-soaked "Over Drinkin' Under Thinkin'" and rediscovers the lost art of fast talking in the upbeat, rebellious "Sounds Like Something I'd Do." But it's not all up tempo toe-tappers. It's in the ballads that he really showcases his deep, smooth as silk vocals. "Don't Look Down" has Milligan painting a picture of falling in love on a dance floor, defying gravity thanks to the honky-tonk's trusty old jukebox, and "She" is a beautifully simple but emotive depiction of a lovesick boy completely in love with a girl, as he lists off everything he loves about her.
Drake Milligan track list:
"Over Drinkin' Under Thinkin'"
"Don't Look Down"
"Kiss Goodbye All Night"
"She"
"Sounds Like Something I'd Do"
###
Venue
Tacoma Dome
2727 E D Street
Tacoma
98421
Dates
The event runs from 6:00 PM to 11:59 PM on the following dates.
Select a date to add this event to your calendar app.